Park Avenue – new quality in the heart of Warsaw
The elegant building designed in a shape of "L" consists of two connected blocks of 7 and 15 floors, with specious terraces. A shape of the building creates a natural corner, that faces the courtyard of the neighboring facility, providing a cozy space for its users. The lower part of the building with a stone elevation creates frontages of Wspólna Street and the glass part of the facility marked by steel razors – majestically dominates above the surrounding. There is a wonderful view to the park, St. Barbara's Church, Marriott Hotel and Złote Tarasy shopping center. The author of Park Avenue is famous architectural studio: JSK Architekci.
In addition to the architecture Park Avenue's distinguishing features include spacious terraces, openable windows, ergonomic and flexible office space and a low common area ratio. The Park Avenue building is LEED green certified at the GOLD level.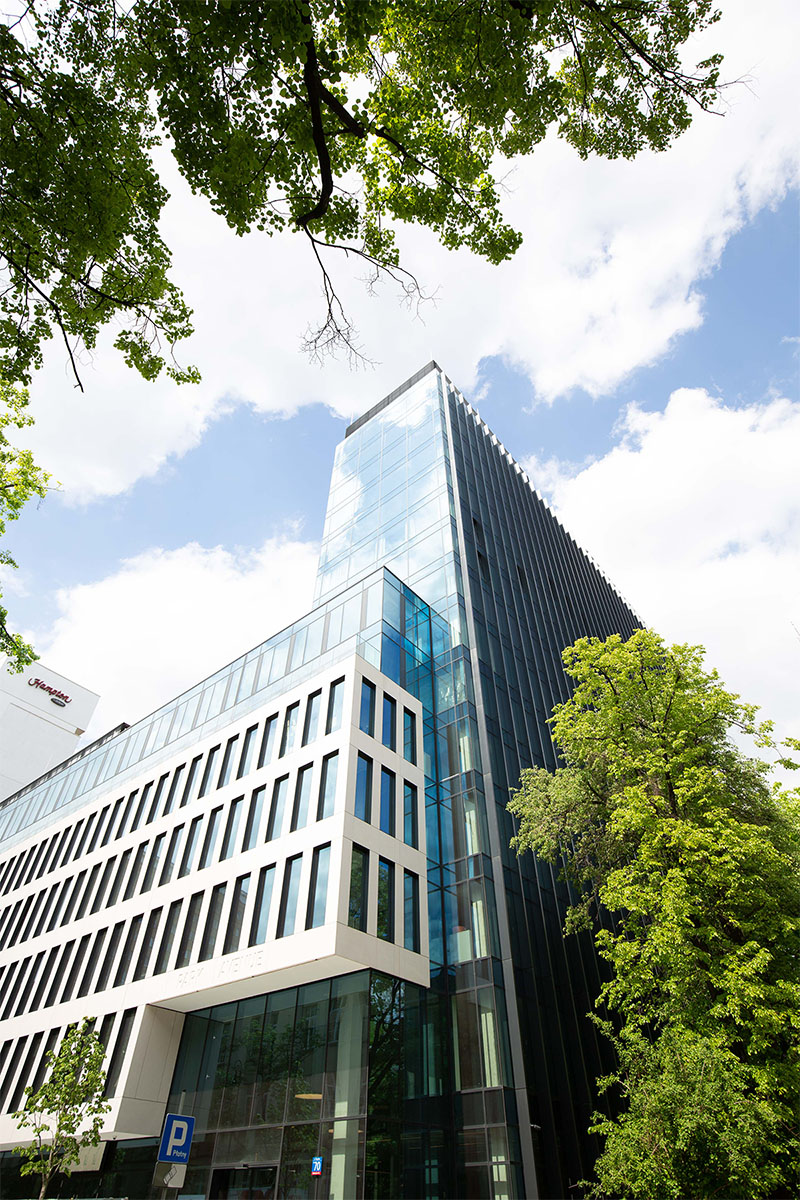 Comfortable, perfect location in the center of the city
Comfortable, perfect location in the center of the center with an access to the whole range of amenities in a closest neighborhood for convenience of every employer as well as an employee.
The first floor of Park Avenue is taken by an elegant 2-floor height lobby, with a business lounge and café, as well as retail and service area. Because of its scale, climate, location it invites those tenants, to whom its non-corporation style is an added value.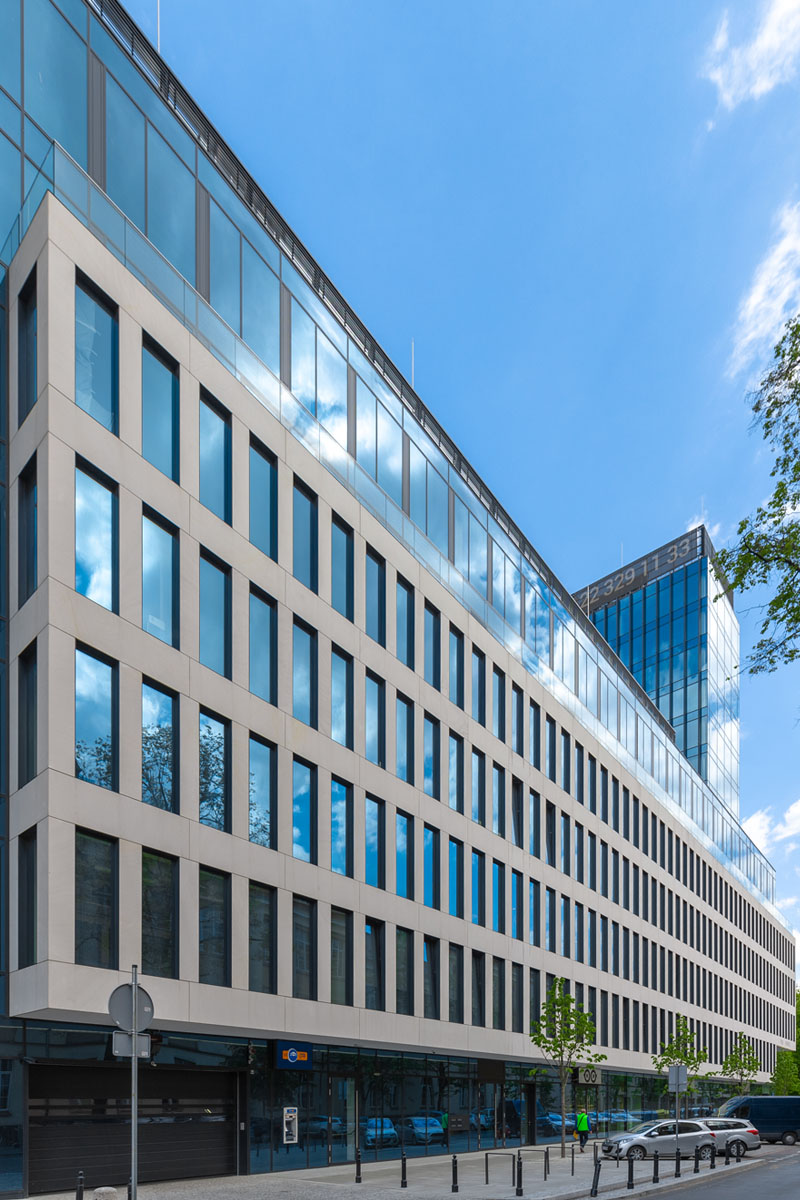 PRESTIGIOUS LOCATION, ELEGANT DESIGN AND MODERN TECHNOLOGIES – PARK AVENUE CREATES A NEW STANDARD AT THE WARSAW BUSINESS MAP
Park Avenue has been designed by JSK Architekci Sp. z o.o. – the company that has been present in Poland since 1998. The company have more than 25 years of international work experience, gained first of all in Polish and German markets. As a leader of a consortium, JSK Architects designed a new Polish National Stadium for Euro 2012 – Football Championships.
Modern, advanced architecture design of the class A building enables an easy arrangement of the perfectly lightened office space, meeting individual needs of tenants. Openable windows in every room, minimized common space, 7 fast elevators with a very short awaiting time, individual design for every tenant, power supply stations for electric cars in the underground parking – there are just few solutions provided by investors of Park Avenue, for whom 5* standard means: location, standard, efficiency, sophistication and energy saving.

Location
• A prestigious location in the heart of Warsaw at Wspólna 70 Street, next to Central Railway Station, Marriott Hotel and Hampton by Hilton Hotel;
• Easy, convenient access from every corner of Warsaw;
• All amenities in a closest neighborhood.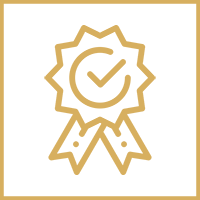 Standard
• Openable windows in every room;
• Maximum access to the daylight;
• Most efficient and modern AC and ventilation systems;
• At least 8 m2 per one employee in the office space;
• Full comfortable access for disabled;
• Great add-on factor rate – minimum of common areas;
• Parking for bicycles with full sanitary facilities;
• 24/7 monitoring of the facility.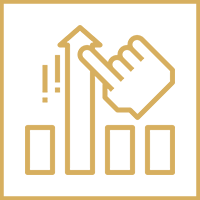 Flexibility
• Building plan on a high level of efficiency and flexibility, efficient space, clear division into rental units;
• Ergonomic and flexible office space, with a possibility of free arrangement;
• Individual design for clients need;
• Raised floors and underwing celling that allow a fast re-arrangement.

Advanced
• 7 high speed elevators (high standard of design) – MAX Waiting time 27 s.;
• Structural cabling.
• Modern 15 floor, class-A office building;
• 14.000 m2 of rental space;
• Underground parking;
• Office module: 1,35 m;
• Height of the offices: min. 2,75 m (clearance).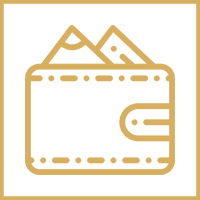 Energy saving
• AC and ventilation systems on a highest standard, temperature regulation in every room, central humidification for the offices;
• Power supply stations for electrical cars;
• 2 independent sources of power.
5* A class office building is called Park Avenue and is located in the center of Warsaw at Wspólna 70 street.
In the immediate neighborhood of the building there are Hampton by Hilton hotel, primary school / kindergarten, Ministry of Infrastructure and Construction and residential buildings.
Park Avenue is situated in one of the most important communication points of the city with an underground passage at the intersection of Chałubińskiego / Aleja Jana Pawła II and Aleje Jerozolimskie with a full communication infrastructure including trams and buses. The Centrum metro station is within an 8-minute walk.
The office building is located in a short distance from the Central Railway Station (bus terminus, numerous bus stops, tram lines, rail transport – Warszawa Centralna station), in the immediate vicinity, there is a Veturilo station with bicycles.